In a flurry of Tweets on Friday, President Trump has announced that he has told Secretary of State Mike Pompeo to cancel next week's trip to North Korea, which he announced just yesterday. Trump cited a lack of progress on denuclearization as his reasoning.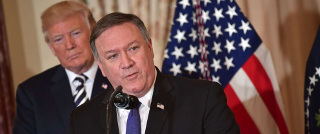 This is an unusual position to take, as the administration had long insisted there was no rush on denuclearization. A sudden desire to speed things up would also seemingly be a reason to send US officials, including new special envoy Stephen Biegun, for whom this was to be his first visit.
This also comes just days after North Korean state media issued a statement accusing some foes of President Trump of trying to slow progress, and urging Trump to make "bold" moves to advance the cause of peace.
Further complicating matters, President Trump accused China of refusing to help with denuclearization because of an ongoing trade dispute with the US. He suggested no visits to North Korea should be made until the trade situation with China is resolved.
That's a tall order as well, because the ongoing trade disputes with China are very deep, and Trump seems to be squaring up for a long-term trade war with them, not something that's liable to be resolved in the near term.