Secretary of State Mike Pompeo announced on Thursday that he will be making a visit to North Korea next week for another round of nuclear talks. This will be Pompeo's fourth visit this year, and third as Secretary of State. In April, he visited at the CIA Director.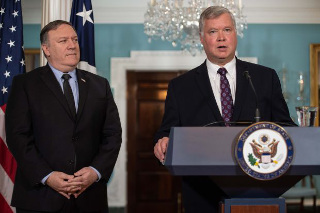 Pompeo won't be traveling alone this time, either. Earlier in the day he announced Stephen Biegun, an outgoing vice president at Ford, was to be appointed as US Special Envoy to North Korea, and he will be accompanying him for next week's visit.
Biegun says the situation will be "tough to resolve," and it's not clear exactly what is on the agenda for this visit, beyond vague nuclear talks. The State Department said there were no specific plans to meet with Kim Jong Un during the visit.
Pompeo's first two visits reportedly went quite well, though the North Korean government was deeply critical after his third visit, accusing him of making gangster-like demands. Some analysts believe the joint visit is a way for Pompeo to step back from a leading role and pass the task of diplomacy to Biegun.