Following two hours of meetings between top North and South Korean officials on Monday, the two sides announced that an agreement has been reached to hold a third summit in September. The summit will be in Pyongyang, though the exact date has not been announced.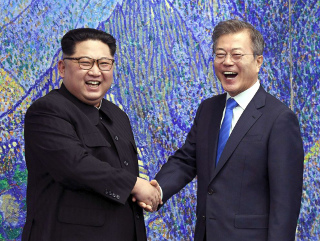 Kim Jong-un and Moon Jae-in first met in April in the demilitarized zone, and then held a more informal summit in late May. At the time, officials on both sides suggested more summits were likely in the future.
As with the late May summit, this one comes amid signs that US-North Korea diplomacy is stumbling. South Korea has been advising the US on how to make progress, though often the US has rejected proposals that involve making any concessions.
North Korea is known to want a peace deal ending the 1950 Korean War, and the US is seen as resistant to the idea. The South Korean government has been pretty open about wanting peace too, however, and may try to get the process moving irrespective of US reticence.
The Korean War reached an armistice in 1953, but no peace treaty ever followed. Both the US and China have, at different times, expressed support for such a deal if both Koreas agree to it.