Saturday's surprise summit between South Korean President Moon Jae-in and North Korea's Kim Jong-un was easy to arrange, according to Moon, who says that improving diplomacy made it easy to get into contact and meet casually without all the usual formalities.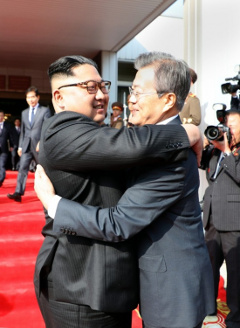 Last month, Moon and Kim met in an historic summit that was a major success. This second summit came after President Trump withdrew from a planned summit of his own with Kim. Moon is attempting to salvage that summit, and says he believes Trump and Kim must meet directly to resolve certain key issues.
Moon says that Kim and Trump may have differing expectations for the meeting. At the same time, he intends to keep working on the matter, and says there could be more impromptu talks, or even more summits, between North and South Korean officials going forward.
Despite Trump having cancelled the summit just days ago, US officials continue to engage in talks with North Korea, and are holding out the possibility that the summit could still happen, potentially even on the planned June 12 date.
Over the weekend, US officials met North Korean officials in the DMZ, and the White House is now saying that another group of officials is headed to Singapore to meet North Korean officials there.