On Thursday, Secretary of State Mike Pompeo left for a visit to North Korea, his third such visit since early April. The visit has previously been reported to focus on specific steps for the denuclearization process.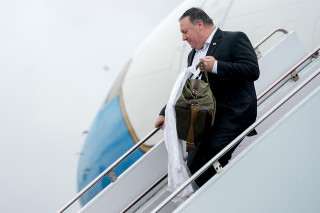 The focus is important because of media reports earlier this week that the US has agreed to South Korean suggestions to focus on "step-by-step" progress with North Korea instead of just reiterating all US demands at once. Nominally this was a shift from "complete, verifiable, and irreversible denuclearization" to "final, fully verified denuclearization."
On Thursday, the State Department publicly denied this "softening" and change of focus, and insisted that no change was made at all. They say instead of focusing on steps, Pompeo will just be focusing on reiterating US demands.
The change to a step-by-step process was seen as "softening" the US position, and potentially would've been a target for critics of the diplomatic process. It is clear that the denial by the State Department would benefit the administration. At the same time, South Korea doesn't appear to be denying that they encouraged this alternate approach, however, and the Trump Administration has long been relying on South Korea for advice on tactics.