The White House has announced the latest travel plans for Secretary of State Mike Pompeo, revealing he will be leaving the US on Thursday for a visit to North Korea for talks. He will leave Pyongyang on Saturday, and visit Japan next.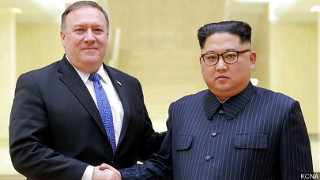 This will be Pompeo's third visit to North Korea this year, and his first visit since the June 12 summit between President Trump and Kim Jong-un. White House officials say the talks will center on the specifics of denuclearization.
White House officials say progress is continuing to be made on denuclearization after a plan was agreed to at the summit. The media has been pushing reports claiming a secret US intelligence assessment which rejects the denuclearization plan, but its validity has not been confirmed by any current officials.
Pompeo's visit also comes just days after National Security Adviser John Bolton claimed the US has a plain to denuclearize North Korea, as well as eliminate their chemical, biological, and even ballistic missile arsenals, in just a year.
Bolton's one year timeline is in stark contrast to previous comments, in which Pompeo hoped to have "much" progress made within two and a half years. North Korea hasn't addressed either publicly, and will likely be trying to get some clarification on what the US position actually is.