Speaking to the Jewish Federations of North America, Israeli Army spokesman Lt. Col. Jonathan Conricus conceded that the military had failed in efforts to minimize Gaza casualties earlier this week, and had effectively handed Hamas a PR 'knockout' victory.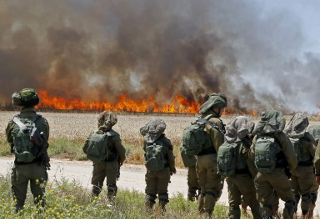 Opening fire on protesters during Nakba Day on the Gaza border, Israeli forces killed 61 Palestinians and wounded thousands. Though Israeli political officials have defended the killings, Lt. Col. Conricus admitted that some of the Palestinians were hit "by mistake."
Conricus said that all the screaming and smoke made it a chaotic environment, and while the Israeli troops are disciplined and professional, While he generally defended the idea of shooting at the protesters near the border, he said mistakes were made.
Conricus is the first Israeli official to publicly suggest that a too high death toll was a problem, with political officials all insisting that killing Gazans was akin to killing Nazis, and arguing that they were mostly "terrorists" anyhow.
Indeed, within Israel's far-right government comments were generally upbeat about all the deaths, and despite international backlash, the US was eager to defend them from any probes or blame.
Being more forthright about the consequences of the killings would be necessary in comments to a major US Jewish organization. This is particularly true in this case, because such groups are not uniformly behind the killings, and Israel is desperate to continue to ensure their support in lobbying efforts within the US.