With scores dead and thousands wounded in the deadliest Israeli crackdown on Gaza since 2014, officials in the far-right coalition government are issuing statements on the deaths. These statements read less like damage control than a combination of ambivalence about those killed and eagerness at the prospect of more deaths to come.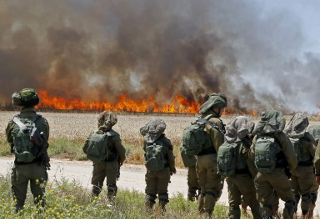 Strategic Affairs Minister Gilad Erdan repeatedly referred to the protesters killed in Gaza as "Nazis," saying that there were no demonstrations, just "Nazi anger." He later added that the number killed doesn't mean anything because they're just Nazis anyhow.
Likud MP Avi Dichter, the chair of the defense committee, went on to dismiss concerns in an interview of his own. Dichter insisted that protests in Gaza pose no danger, because "the IDF has enough bullets for anyone," and open-fire regulations to shoot people allowing the military to deal with it.
As with previous Gaza protests, Israeli officials made clear that they expected a violent crackdown on the demonstrators. This has largely kept the Israeli public neither surprised nor shocked when the deaths inevitably happen.