27 people were killed in Taliban attacks across Kabul Tuesday, including 15 attackers. As in the June attack on the Intercontinental Hotel, NATO said today's events were a Taliban attempt to derail the handover of security to Afghan forces. That attack continued throughout the day and into the evening.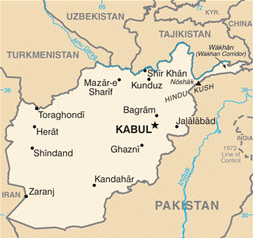 The insurgents fired rockets and bullets from a perch atop an under-construction midrise building in the diplomatic district of Wazir Akbar Khan. Three were killed and a few more are still on the loose, said Afghan officials. A police station, a high school, NATO headquarters, the US embassy, and the airport were also attacked by shooters and suicide bombers. The Taliban claimed responsibility for all the attacks.
Four Afghans were hurt in the American embassy, where staff hid in bunkers as rockets smashed into the grounds.
Reuters quoted military strategist publication STRATFOR, which said insurgents couldn't infiltrate Kabul without help from some Afghan security forces.
The Indian embassy was attacked in 2008 and 2009, killing scores. NATO headquarters was attacked in 2009, killing 7 and wounding 90. And last year, several Afghan government ministries suffered a day-long Taliban siege, killing at least 15.
The insurgents' "determination," an unidentified security official told the New York Times, means more such attacks can expected in the future.