In a month that's seen the largest single death toll in an attack on occupying troops, today was just another day in violence-wracked Afghanistan.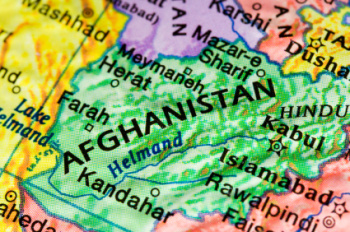 Four guards were killed at NATO's Kandahar Air Field when militants blew up a minivan packed with explosives. The base serves a a tanker depot; NATO's fuel has been a popular target for Taliban in Afghanistan, but especially Pakistan, which is part of the supply line.
Also Monday, a British soldier was killed just yards outside his base in Helmand province by a roadside bomb. Five others were injured.
A day earlier, at least 25 people were killed at the home of Parwan province's governor. It's one of a series of attacks on authorities throughout the country, including the killings of President Hamid Karzai's brother; an aide to the president; and the Karzai-allied mayor of Kandahar.
The latest deaths come on the heels of the revelation that the frequency of US bombing raids has doubled since 2009. This is a violence spike measured in years.