Gunmen killed a member of parliament and a top aide to Afghan President Hamid Karzai today in a four-hour battle at the aide's home in Kabul.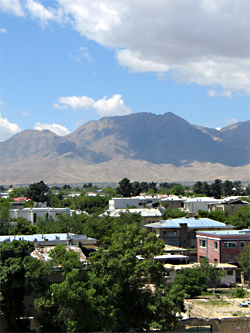 Kabul's upscale Karte Seh district, home to embassies and government offices.
Former governor of Uruzgan province Jan Mohammad Khan — who narrowly escaped assassination last year — and MP Hashim Watanwal were killed in the 8pm attack on the house in the upscale Karte Seh district. Gunfire was heard for several hours after the attack began.
The attack happened just days after the president's brother, Wali Karzai, was killed in Kandahar. Wali was the de facto governor of the southern city, known to be corrupt, involved in the drug trade, and even on the CIA payroll. At his funeral on Friday, a suicide attack killed six in attendance.
Khan was removed as governor of Uruzgan in 2006 after the Dutch, with a contingent of some 2,000 troops in the province, demanded his sacking due to corruption and drug dealing.
With the beginning of a long US troop withdrawal from the country, and these attacks on the Karzai clan's power structure, Hamid Karzai's grip on power could loosen. He will certainly find it harder to pull off the kind of sweeping election fraud that saw him "reelected" in 2009, with US-UK backing.
(photo by Reza Zandi)