On Thursday, Turkey warned Armenia against violating a deal Azerbaijan, Armenia, and Russia signed to end the fighting in Nagorno-Karabakh. Ankara loudly vocalized its support for Azerbaijan in its fight against ethnic Armenians in the enclave that broke out on September 27th and left thousands dead.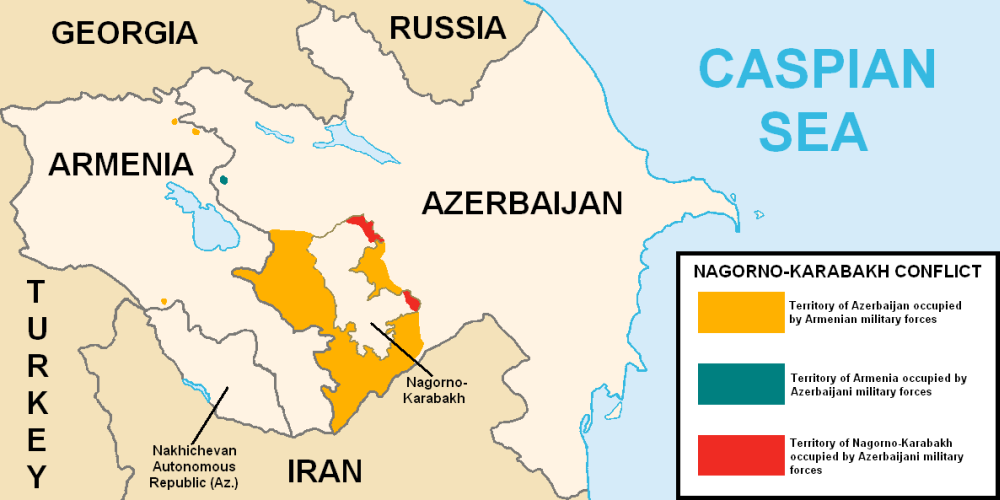 "If they [Armenia] violate the ceasefire, then they will pay the price for it," Turkish Foreign Minister Mevlut Cavusoglu told reporters in Baku, Azerbaijan's capital. Armenia agreed to cede territory to the west of Nagorno-Karabakh, and Russian peacekeepers are being deployed to the region to see the truce is upheld.
Cavusoglu said Armenia must "abide by the deal and withdraw voluntarily," or else Azerbaijan would resume the military operation and "recapture Azerbaijani territories." Baku received military support from Turkey in the form of weapons sales that surged in August and September, just before the battle began.
Turkey has also been accused of sending Syrian mercenaries to the battlefield to support Azerbaijan, although Ankara continues to deny it. But Turkey has a history of sending Syrian fighters to other conflict zones, like Libya.
Armenians protested the deal for a third day in the capital Yerevan, where thousands took to the streets. Armenian Prime Minister Nikol Pashinyan is facing calls to resign over his decision to sign the ceasefire agreement.
If the truce sticks, it will mark the end of the deadliest fighting over Nagorno-Karabakh since the early 1990s, when about 30 thousand people were killed in a war sparked by the collapse of the Soviet Union.
The real death toll for the latest clashes is not yet known. Nagorno-Karabakh reported over 1,200 of its soldiers killed, while Azerbaijan has not disclosed its military casualties. Dozens of civilians were reported killed on both sides. Russia believes the total death toll could be as high as 5,000.