Turkey celebrated Azerbaijan's success in advancing into Nagorno-Karabakh on Tuesday after a deal was agreed to with Armenia to stop the fighting that erupted on September 27th that killed thousands in the region.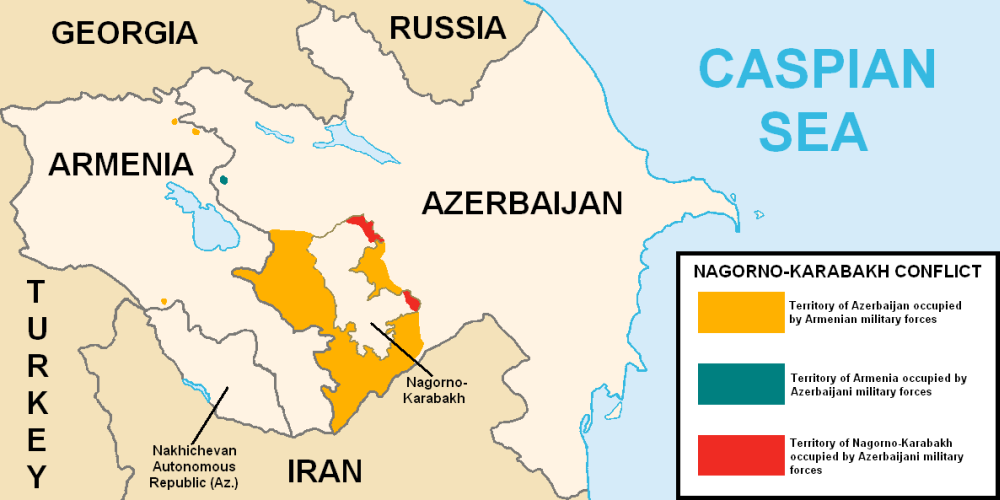 "The brotherly Azerbaijan has achieved an important gain on the battleground and table. I sincerely congratulate this sacred success," Turkish Foreign Minister Mevlut Cavusoglu wrote on Twitter. "We will continue to be one nation, one spirit with our Azeri brothers."
Under the agreement signed to end the fighting, Armenia agreed to cede territory to Azerbaijan in and around Nagorno-Karabakh. Since the battle began, Turkey has been outspoken in its support for Baku and called for Armenia to end its "occupation" of Nagorno-Karabakh.
Azerbaijan received military support from Ankara in the form of weapons sales. Armenia and Russia accused Turkey of sending mercenaries from northern Syria to aid its ally on the battlefield. Media reports back up the claim, but Ankara denies sending the Syrian fighters.
Azerbaijan will keep the territory it captured, including the enclave's second-largest city Shusha (known as Shushi by the Armenians). Shusha is nine miles south of Nagorno-Karabakh's capital Stepanakert. The Azeris were assaulting Stepanakert before the deal was signed to stop the fighting. Under the agreement, Armenia will withdraw from more territory by December 1st.
Armenia and Azerbaijan signed the statement to end the fighting along with Russia, who is deploying peacekeepers to Nagorno-Karabakh. On Tuesday, about 2,000 Russian servicemen were deployed to the region as part of the peacekeeping mission. The Kremlin denied rumors that Turkish peacekeepers would also be sent to Nagorno-Karabakh.
While the agreement to end the war was celebrated in Azerbaijan, it was met with anger in Armenia. Crowds stormed Armenia's parliament and other government buildings in Yerevan shortly after Armenian Prime Minister Nikol Pashinyan announced the deal he signed.
If it holds, the ceasefire marks the end of the bloodiest conflict over Nagorno-Karabakh since the war from 1991 to 1994 that killed tens of thousands. Since 1994, Nagorno-Karabakh has operated as a de facto independent ethnic Armenian state, known as the Republic of Artsakh, with Yerevan's support.
As of Monday, 1,221 soldiers from Nagorno-Karabakh were reported killed in the battle. Dozens of civilians have been reported killed on both sides, and Azerbaijan has yet to disclose its military casualties. Earlier in the fighting, a humanitarian official from the UN said 90,000 ethnic Armenians have fled Nagorno-Karabakh and are now in Armenia, a significant number since the enclave's estimated population about 150,000.