On Sunday night, Israeli warplanes attacked the al-Nayrab air base near the Syrian city of Aleppo. Israeli media reported that the site was "Iranian-linked." On Monday, reports began emerging of substantial casualties in the attack.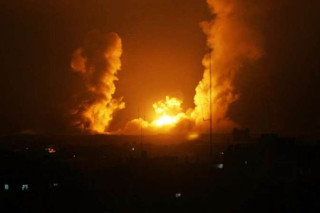 Media reports citing opposition sources say that the strikes targeted warehouses at the site, killing at least 22 people. The reports claimed nine of the slain were Iranian citizens, and six were Syrians. Previous reports suggested three of the Syrians were soldiers. The Iranians appear to have been militia members.
Israel is always keen for its attacks against targets inside Syria to have some Iran component, even though they generally don't publicly acknowledge responsibility for the attacks. Israeli media has speculated that the government reached a deal with Russia giving them "free rein" to attack Iranian targets in Syria.
This is the third Israeli strike in Syria in the past week, and the deadliest in quite some time. Previous strikes mostly centered on the southern areas, near the Israeli-occupied Golan Heights, but this was much further north. Combined with an attack along the Iraqi border in the far east, it may reflect Israel becoming increasingly aggressive in attacks nationwide on Syria.