A series of apparent Israeli airstrikes targeted a Syrian military base at al-Hari, along the Iraqi border. The Sunday night strike killed at least 52 fighters, including Syrian troops, and a large number of Iraqi militia members.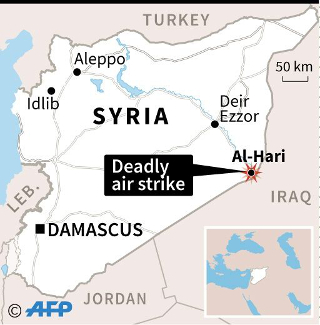 The military site at al-Hari is less than half a mile away from the Iraqi border, near the main border crossing at al-Bukamal. On Sunday night, Syrian state media said the attack was likely by US forces, though US Centcom quickly denied this.
Later on Monday, US officials began to tell the media that they had "reasons to believe that it was an Israeli strike." Some Syrian media reports had also been speculating that if it wasn't a US attack, it was probably Israeli.
Israel has attacked Syria a large number of times, so it is usually a reasonable guess that any airstrike would be from there. This is especially true because among the killed were a handful of Hezbollah members, a popular target for Israel.
This is an unusual target for Israel, however. Historically, Israel has focused its airstrikes on the areas around Golan, and on a handful of bases near Homs that they accuse of belonging to Iran. This is by far the furthest east Israel has struck during the Syria war.