With South Korean officials openly "puzzled" by the US decision to cancel the June 12 summit between Trump and Kim, Secretary of State Mike Pompeo made a call to South Korean FM Kang Kyung-wha to try to explain what happened.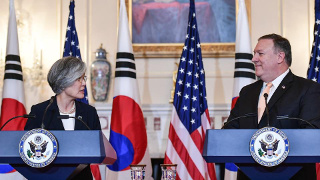 Pompeo sought to assure the South Koreans that the US remains committed to denuclearization on the Korean Peninsula. That assurance comes in spite of that being the main topic for the summit, which now appears as if it isn't going to happen.
State Department officials say Pompeo and Kang ended up agreeing to create an environment which would allow a summit between Trump and Kim. They agreed they wouldn't stop until North Korea agreed to nuclear disarmament.
Getting North Korea to agree to that is clearly going to require a summit, and the path toward such a deal was already clear, up until Trump's Thursday cancellation. Trump told the North Koreans he'd still be willing to talk if they put aside their "hostility" toward the US.
Though North Korea expressed annoyance at recent joint US-South Korea war games, which they viewed as conflicting with the diplomatic tone of the moment, they say they are willing to wait and give the US time to change their mind.