Reports out of Syria suggest that Thursday's attack on a military airbase near the city of Homs was the latest in a series of strikes by Israeli warplanes against Syria. The reports suggest that Hezbollah members at the base were the target.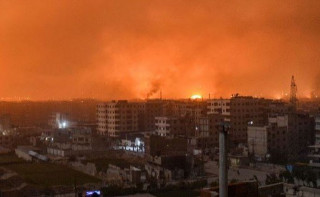 Details are scant on the results of this latest attack. Syrian state media confirmed only that the base was hit, and said they'd intercepted some of the missiles fired at the base. There have been no reports as of yet suggesting any casualties from the incident.
Israel has attacked bases in the area around Homs, and elsewhere in Syria, repeatedly over the last several months. Israel, to the extent they've confirmed such attacks, always insists they are targeting Iran. In this case, that's probably still going to be the case, as Israel tends to claim every Shi'ite militia is an "Iranian proxy."
It was unsurprising that the strike was Israeli. Lebanon reported Israeli warplanes were flying over their territory, which has been the case during most all attacks against Syria. Lebanon has limited air defense capabilities and has little choice but to allow Israel to violate their airspace with impunity.