Expectations were that the inspectors from the Organization for the Prohibition of Chemical Weapons (OPCW) would enter Douma on Monday, but this did not happen. Exactly why is a matter of serious contention.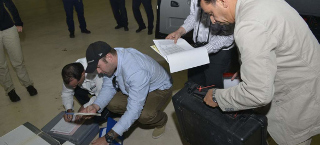 British Prime Minister Theresa May is claiming the Russians blocked the OPCW, saying that Russia and Syria are "not cooperating." The Russians and Syrians are both denying this. Russia says the UN ordered the visit stopped for security reasons, and Syrian officials say they've been meeting with the OPCW delegation.
It's not totally clear what is happening. The UN Security Council already rejected a resolution calling for an investigation, but it's not clear they can stop the OPCW visit. At the same time, Syria and Russia have supported it from the start, anticipating it would discredit the Western allegations of a chemical attack.
The US seems to be anticipating the OPCW probe not going their way, and is already accusing Syria and Russia of plotting to tamper with the site. There's no evidence of tampering of any kind. The US suggestion was based on the fact that Russian military police visited the site. The visit, however, was done days ago, and Russia said it was meant to deter the West from attacking Douma and destroying  evidence.
The US, France, and Britain appear to have little reason to want the OPCW visit to be successful. They already used the alleged attack as a pretext to strike Syria Friday, so clearly they weren't interested in getting the facts before bombing.