In a move that suggests he is still considering a pullout of US troops from Syria, President Trump has ordered the State Department to freeze over $200 million in funding for Syrian recovery programs.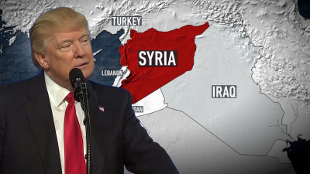 The $200 million in funding was announced by then-Secretary of State Rex Tillerson during a visit to Kuwait in February. It was seen at the time as underscoring the long-term US commitment to Syria intervention.
President Trump, however, has been talking to cabinet officials for months about pulling out of Syria soon. The administration rank-and-file, along with top party figures in Congress, appear to generally oppose ending the war.
Last week in Ohio, however, President Trump suggested that with ISIS defeated, the US could pull out of Syria "very soon." This move to freeze funds punctuates those comments, and suggests Trump envisions a near future where the US military isn't in Syria.
The State Department didn't indicate whether or not that was the case. For now, it seems that exactly what the US plans are remains a matter of serious speculation.