Senate Joint Resolution 54, which would force the end of the US involvement in the Saudi War in Yemen, continues to face mounting opposition from the administration. Defense Secretary James Mattis is the latest to express opposition to the bill, in a letter to Sen. Mitch McConnell (R-KY).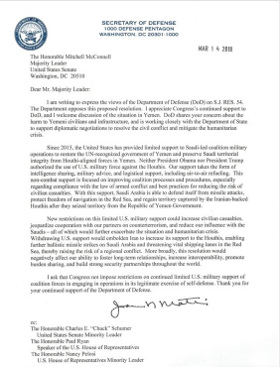 Mattis argues that the US support for Saudi Arabia is "non-combat support," and that without it, Saudi Arabia would kill even more civilians in their airstrikes. This is a bold prediction given the outrageous number of civilians the Saudis are killing already.
Mattis further claims that the Saudis are engaged in a "legitimate exercise of self-defense," another outrageous claim that other administration officials have made. This is based on the Shi'ite Houhis firing missiles at the Saudis, though presenting this as a pretext for a war of self-defense is preposterous, since the missiles were fired years after the Saudi invasion began.
Mattis does concede the point in his letter that there is no legal authorization for US involvement in the Yemen War, but insists Congress should "not impose restrictions" based on the war's plain illegality under the War Powers Act.
Exact timing for the vote on S.J. Res 54 is still not certain, though proponents of the bill are hopeful that the vote will come early next week. Those wishing to contact their senators to urge them to support SJ Res. 54 should call 1 (202) 899-8938.
The US War Powers Act requires that Congress authorize any US military operations of the sort being carried out in Yemen. Since 2015, the US has conducted mid-air refueling for Saudi warplanes, and committed warships to the naval blockade which is fueling starvation across Yemen.