In early October of last year, four US troops were killed in Tongo Tongo, Niger, not far from the Malian border. This story was a huge revelation, as it forced the Pentagon to admit they had nearly 1,000 ground troops in Niger, something even the Senate Armed Services Committee members insist they weren't told about.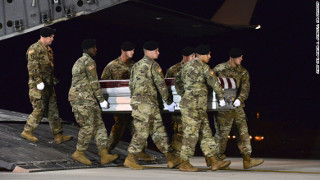 Islamists, presumably ISIS, had been blamed for the attack, but on Saturday the local ISIS affiliate, which dubs itself the Islamic State in the Greater Sahara, finally publicly admitted to the attack.
This affiliate almost never issues public statements, and this statement was attributed to the group's later, Abu Adnan al-Sahrawi, through a Mauritanian news agency which has previously been used for their rare statements.
The attack led to the US to double-down in Niger, including getting an approval from the Nigerien government to carry out armed drone strikes from their country. The new claim of responsibility is likely to have US officials claiming it vindicates their Niger operation as part of the overall ISIS war.