With Pentagon officials offering the first details on the Niger ambush incident, they also revealed details about the ongoing US war in Niger, including the revelation that there is an ongoing US war in Niger. Nobody seems to have known about it.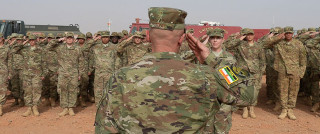 Especially not those whose job it is to know. Senate Armed Services Committee members confirmed they were "stunned" by the revelation, and had no idea that the US had upwards of 1,000 ground troops operating inside Niger.
Gen. Joe Dunford presented this military operation as being targeted at an ISIS affiliate inside Niger, and the suggestion is that the 2001 Authorization for the Use of Military Force (AUMF) in Afghanistan is serving as the legal justification.
Perennial hawk Sen. Lindsey Graham (R-SC) expressed comfort with this, saying it is the military's job to decide who the enemy is, and Congress could defund the war if they objected. This is both not the way US wars are supposed to be launched, and obviously a problem since Congress didn't even know the war was going on.
This is adding to the push to repeal the AUMF as well, or to replace it with something more specific that at the very least wouldn't be used 16 years after the fact to start a war without telling anyone about it.
Officially, where US troops are deployed is supposed to be a matter of public record, though the Trump Administration has been increasingly averse to doing so with any precision, and the most recent figures show over 27,000 US troops deployed overseas to unspecified locations.