A new report from British NGO Airwars estimates that US airstrikes against the ISIS capital city of Raqqa in August killed at least 433 civilians. They reported 5,775 bombs, shells, and missiles dropped in the city in that period.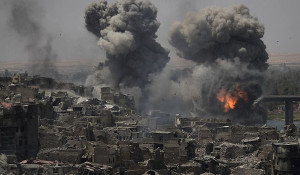 Airwars said that the level of US-led coalition airstrikes against Raqqa is even higher than in the Iraqi city of Mosul, where US airstrikes killed massive numbers of civilians. They added that the effects on Raqqa's trapped civilians have been "equally devastating."
While the Pentagon announced that more strikes were dropped on Raqqa in August than any other time in the war, they have yet to offer a figure on civilians killed in August. They instead offered a generic statement on how tey are conducting the most accurate campaign ever.
An estimated 20,000 civilians are believed to still be trapped in Raqqa, which is being invaded by US-backed Kurdish forces. Though US officials have claimed at times the Kurds have gained major territory in the fight, there is still no estimate of how much longer it will last, and US airstrikes are going to continue to be a deadly reality for Raqqa for the foreseeable future.