Two weeks ago, the battle for Manbij was supposed to be all but over, with US officials openly bragging that the ISIS fighters within had "nowhere to run" from the advancing US-backed rebels, the Syrian Democratic Forces (SDF).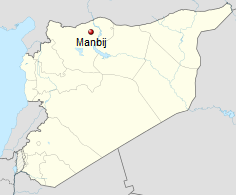 The offensive is going poorly since, however, with no real progress in the last 10 days, and ISIS launching multiple counterattacks, over the weekend recovery surrounding villages and today attacking the SDF forces in the city on three different fronts.
ISIS was supposed to be the ones who were surrounded, but after getting some fighters out into the surrounding area, officials with the SDF are talking about having been "evicted" from parts of Manbij, though the reality is that the city itself never really fell from ISIS control.
Manbij is seen as strategically important to ISIS, as the main route between Jarabulus, on the Turkish border, and their capital of ISIS. The SDF have been contesting ISIS territory in northern Raqqa Province for over a month, though apart from trading some villages, nothing decisive has resulted.