Over the weekend, the US-backed Syrian Democratic Forces (SDF), a coalition which is overwhelmingly the Kurdish YPG but also includes some other smaller factions, has lost back much of the territory it gained around the Syrian city of Manbij in the face of a major ISIS counteroffensive.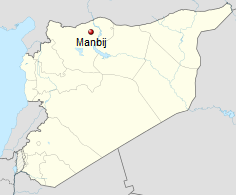 SDF forces entered the city late last week, and US officials were proudly declaring ISIS fighters within had "nowhere to run." Between car-bombings and ISIS infiltrators sneaking into the villages in the surrounding area, however, the tide of the battle was decisively turned.
Heavy fighting was reported inside Manbij at the same time as the villages were coming under attack, and the SDF fighters confirmed that they had been "evicted" from the town, though they insisted they intend to continue "liberating" it.
Manbij's value to ISIS is primarily based on its location, on the main route between ISIS territory along the Turkey border, like Jarabulus, and the ISIS capital city of Raqqa, and the loss of the city would make traveling between the two areas much more difficult.