Syrian state media today reported that the military had "returned security and stability to the town of Ataman," a small town just north of the Jordanian border, and near the main city on that border, Daraa, which was where the initial protests leading to the civil war were held.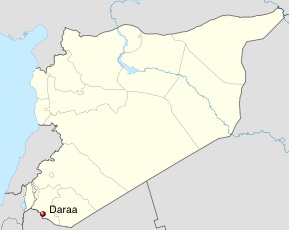 The capture of Ataman came amid fighting with the rebel faction Liwa al-Mutaz, which is historically allied with the Free Syrian Army (FSA). The rebels reported heavy shelling and intense Russian airstrikes on their forces.
This is the latest in a string of victories by the Syrian military in Daraa Province, including the capture of the hugely strategically important town of Sheikh Maskin late last months, which gave the Syrian military a strong supply line into Damascus.
Daraa itself would be the obvious next step in this southern offensive, and with Ataman under military control there is basically no supply line for the rebels there anymore, particularly since Jordan, which previously hosted rebel train, has more or less sealed the border in recent weeks.