Praising the island dictatorship for its "reforms," the State Department today announced that the US is ending all restrictions on military aid to Bahrain, though they declined to say exactly how much new military aid would be involved in this.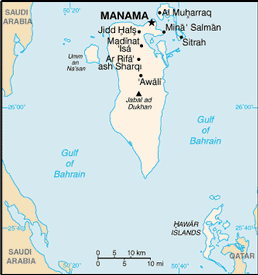 The US made some restrictions on its provision of military aid to Bahrain back in 2011, when the country violently cracked down on pro-democracy protesters. The US has made some sales of weapons to the Bahraini government since then, but insisted that the arms were not of the sort that could be used to suppress dissent.
Rights groups are harshly critical of the US decision, saying the Bahraini "reforms" amount to virtually nothing, and that Bahraini prisons are still filled to near bursting with Shi'ite political prisoners involved in the demonstrations calling for more representation in parliament.
Though official stats are not kept, Shi'ites are believed to be a substantial majority in Bahrain. The royal family is Sunni, however, and has historically kept Shi'ites out of positions of import. The government has accused Bahraini Shi'ite politicians of being pro-Iran, and has accused the protesters of being a "Iranian terror plot" against the royal family's continued rule.