With the Geneva peace talks set to kick off Monday, Yemen's Shi'ite Houthis and their allies in the military have made another major gain, capturing the city of Hazm, in the vast desert province of al-Jawf in the north. The forces swept in and seized the city despite resistance from Sunni tribal factions and Saudi airstrikes.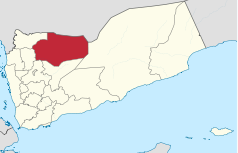 The Houthis control most of Yemen's west coast at this point, including the capital city of Sanaa, and have possessions all the way south to Aden, a city which they've contested with pro-Saudi factions for weeks.
Recent Houthi gains appear to be a function of growing support from the Yemeni military, particularly factions loyal to former dictator Ali Abdullah Saleh, who has admonished Yemenis to resist the Saudi attacks since Saudi warplanes destroyed his home last month.
Saleh had historically been at odds with the Houthis, but was also none too keen on his successor, Abd-Rabbu Mansour Hadi, who the Saudis intend to reinstall militarily. After almost three months of attacks, however, Hadi holds less territory than ever, and the UN is pushing him to reengage with the Houthis on a planned transition.