One of the most important aspects of the Minsk ceasefire for eastern Ukraine was the removal of heavy weapons from the front lines. Both sides were a bit slow in getting this going, with the rebels just finally starting the pullback over the weekend.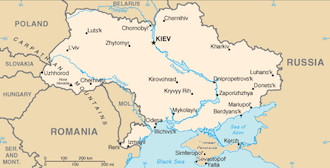 The two sides were supposed to do the pullbacks within two weeks of the ceasefire, and the rebels were about a week in when they began. That's far better than the Ukrainian military, however, which is now refusing to pull weapons out at all.
The army is claiming that the rare skirmishes ongoing in the nation's east justify them keeping their military assets on the front lines, even though that's the opposite of what the ceasefire deal said.
Ukrainian officials, as usual, sought to blame the fighting on Russia, and also claimed they had proof Russia is intending to attack Ukrainian cities soon. Ukraine's currency, the hryvnia, dropped another 10% today on fear Ukraine's military is going to sabotage the ceasefire with its determination to stay on a war footing.