Nigerian President Goodluck Jonathan says that the "window of negotiation" is open with Boko Haram on trying to secure the release of 276 schoolgirls. Boko Haram suggested yesterday that it was open to a prisoner swap.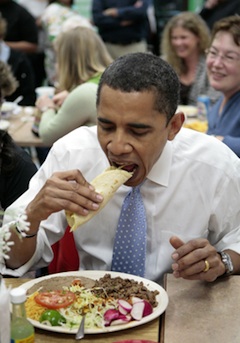 The White House isn't happy with that, saying that they oppose "as a matter of policy" any deal that ends with the release of the kidnap girls, saying Nigeria must "deny kidnappers the benefits of their criminal acts."
Nigeria had initially rejected any deal as well, but facing growing public criticism of their inaction has created a committee to conduct the negotiations and get the girls released. Boko Haram had previously threatened to sell the girls into slavery in the absence of a deal.
The White House policy reflects Congressional calls to oppose negotiation. Some in Congress have also called for the US to intervene militarily and try to launch a forcible "rescue operation," even if done over the explicit objection of Nigeria's government.