In his first face-to-face meeting with Israeli Prime Minister Benjamin Netanyahu since the P5+1 Iran deal, Secretary of State John Kerry made it clear that even if the visit is nominally about Palestinian peace talks, the real focus is on placating Netanyahu about the deal.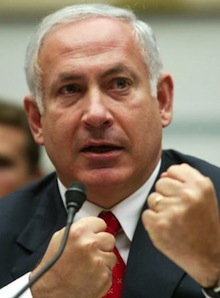 Kerry sought to downplay the significance of the Iran interim deal, insisting that all of the "fundamental sanctions" against Iran remain in place despite the deal, and the US intends to "step up" its efforts to enforce those sanctions.
Kerry urged Netanyahu to give the diplomatic process more time, which in practical terms would mean toning down the Israeli lobby's efforts to push new sanctions through the US Congress, killing the interim deal and talks on a final deal.
Netanyahu has been very public in his condemnations of the Iran deal, and of diplomacy in general, and it is difficult to see how Kerry is going to get him to change his stance on a "disagreement" that have tested US-Israeli ties in a way few expected.