The White House is expressing growing frustration with the Israeli government today, with officials saying that even as private conversations remain "businesslike," Prime Minister Benjamin Netanyahu's condemnations are harming ties going forward.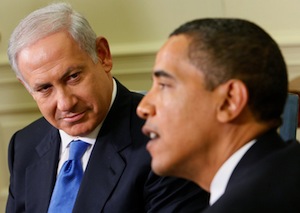 The officials say they understand that Israel's government has a more hawkish position on Iran, and that Netanyahu is simply always going to take a harsh position on any deal, but the public complaints are making it less and less likely the US will consult closely with Israel on a final deal, since Netanyahu's going to complain no matter what it says.
US officials also accused Netanyahu and Israeli Ambassador Ron Dermer of pushing Republican hawks to attack the Iran deal in Congress, and say they believe Israel is feeding the US media an unduly negative narrative about diplomacy with Iran.
It's unusual for the US and Israel to disagree so publicly, but the lengths to which the disagreement has grown are lending themselves to speculation that there is a more serious "break" between the two governments on the issue, and that Israel can no longer simply dictate significant issues in America's foreign policy.
Last 5 posts by Jason Ditz