At least nine Egyptian troops were killed today nationwide, and the Communications Ministry's satellite station was badly damaged in a serious of attacks by unnamed militant factions, which junta Interior Minister Mohammed Ibrahim blamed on the Muslim Brotherhood.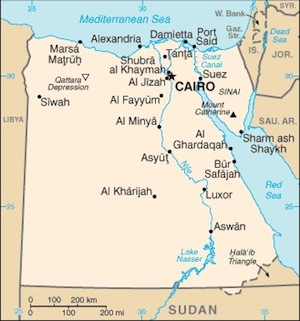 "This is an attempt to prove they are still around and are not broken," insisted Ibrahim, linking the attacks to yesterday's violent crackdown on Brotherhood protesters, killing over 50 of them.
The Muslim Brotherhood's political wing was the last elected government in Egypt, ousted in an early July coup d'etat. Two weeks ago, the junta banned the movement, and today judges recommended that they be treated as an "outlawed" group, setting the stage for an even uglier crackdown.
The Muslim Brotherhood has spent most of its long history as a banned organization, and despite much of its leadership being captured during the coup, they seem to be able to continue organizing major protests, demanding a return to civilian rule.