An Israeli drone has launched an air strike against a target inside Egypt's Sinai Peninsula, not far from the border crossing with the Gaza Strip, destroying a rocket launcher and killing five people from an unknown faction.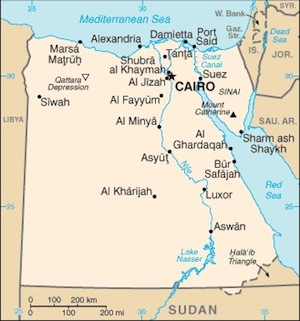 The attack came not long after Israel announced the closure of the airport in Eilat, which followed an Egyptian tip-off of possible attacks against the area from Sinai. Shortly after the strike, the airport was reopened.
Egyptian officials quickly confirmed that the strike was an Israeli drone after media outlets quoted locals saying a drone was flying over the region for "hours" before the attack. They said the attack was carried out with coordination from the Egyptian military.
Egypt's junta launched a crackdown on Sinai the same day as they seized power, and have claimed at least 60 "terrorists" killed since then in the region. The offensive has come with official Israeli endorsement, leading many to complain about the new junta's instantly cozy ties with their neighbor.
Apparently realizing just how bad the drone strike makes the junta look after insisting from the start that they would never allow foreign offensives on Egyptian soil, the nation's army spokesman followed up on the confirmation with a statement backtracking on the entire situation, insisting that there was not only no coordination, but no strike at all, and only making reference to "explosions" in the Rafah region.
Israel's military has refused comment on the matter, fueling speculation that their silence is an attempt to let Egypt get their story straight before going on record about what happened.