Though the "evidence," such as it is, of chemical weapons use in Syria appears to be based on little more than rebel allegations and the occasional photograph, President Obama sought to return the scandal to headlines today by affirming that the US has "seen" the existing evidence.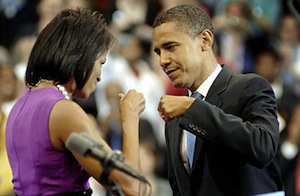 The US had dismissed all of the evidence until late April, when Israel officially announced it believed Syria's government used chemical weapons and the administration dutifully went along with it. The primary difference was that Israel claimed five uses, while the US says maximum two.
Then last week Turkish Prime Minister Recep Tayyip Erdogan, who Obama met today, claimed "at least 200" incidents of chemical weapons use, and claimed Turkey had absolute proof of all of them. Obama admitted he had already seen the proof, but reiterated that "more specific information" is needed.
The UN's conclusion so far is that only one incident ever happened, and that was the rebels, not the Syrian government, using chemical weapons. The US dismissed this out of hand, though it insisted that it believes the incident happened, and that the attack, which killed Syrian soldiers, was probably done by the Syrian military.
In the end the bizarre and contradictory positions the Obama Administration has taken on chemical weapons continue to mount, centered seemingly on the assumption that the US must at least sort of endorse its allies' assessments, if only for politeness' sake. At the same time, the administration seems reluctant to allow those "conclusions," based on little to know real data, to drive policy, and so they must continue to seek better evidence, while carefully avoiding doing something unseemly like pointing out that the existing "proof" is nothing of the sort.