Syrian rebels have reported that they have captured the key town of Dael, just 10 miles from the Jordanian border, following a 24 hour battle that left 38 people dead. 16 of the slain were reportedly rebel fighters.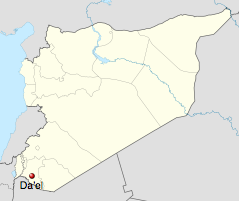 The capture of Dael included fighters from several groups, but rebel spokesmen insist that Jabhat al-Nusra was not involved in the fight. The move is part of a rebel effort to get more territory along the Jordanian border.
Syria's rebels have been focusing on border areas for quite some time, taking a lot of territory along Turkey's border as well as the borders to Iraq and Lebanon. The latest pushes give them a foothold along Israel's border, and now Jordan's as well.
Syrian MPs say that the rebels are pushing heaviest in the Daraa Province lately, where Dael is located. This could be because of the US training operations for Syrian rebels inside neighboring Jordan, and a hope to establish a route for fighters to enter the war directly.