Clashes continued in several Egyptian cities over the weekend, with supporters of President Mohamed Mursi and those riled up by Mursi's edict giving himself broad new powers fighting one another and security forces. In an attack on one of the Muslim Brotherhood's office, a 15-year-old party member was killed.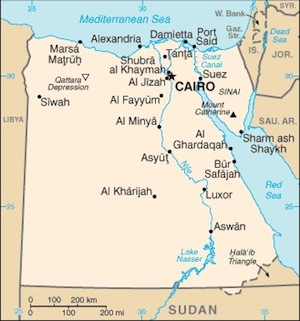 Neither side seems to be willing to budge on the issue, and with the anticipation of rounds of new violence, the Egyptian stock market lost 10% of its value on Sunday. Though the post-revolution period has been tumultuous for Egypt, it seems like the nation is divided more than at any time since Mubarak's ouster.
Opposition figure Mohamed ElBaradei is even predicting that if the protests continue the Egyptian military "will intervene to restore law and order," warning that only Mursi rescinding his order can stop it.
It isn't clear where the military stands, however. While they clashed with Mursi when he first took office over distribution of power, he seems to have satisfied them more or less, and their lack of comment on the edict suggests they approved it ahead of time, meaning they probably won't suddenly back the splintered liberal opposition over protests.