The Obama Administration and Israeli Prime Minister Benjamin Netanyahu are often keen to insist they see "eye to eye" on virtually all matters, but despite the White House eagerness to downplay it, there is clearly an ongoing dispute of some sort.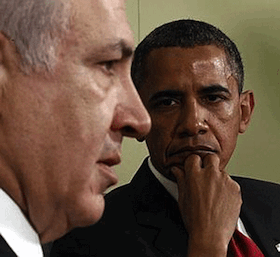 The latest addition to an increasingly public fight, centering on the two not meeting during Netanyahu's upcoming visit, is that President Obama decided to go on the Late Show with David Letterman instead.
It's hard to blame Obama in that regard. He's got a presidential election in two months, and Letterman is considerably less likely to shout at him than Netanyahu, who berated US Ambassador Dan Shapiro in front of Rep. Mike Rogers (R – MI) on a recent visit.
It of course goes a lot deeper than that. There are any number of splits both on the policy front and on the personal front that seem to be coming to a head, from lingering anger over the timing of 2010 settlement announcements, right ahead of high profile US visits, to a very public, very cozy relationship between Netanyahu and Mitt Romney.
Iran is in this too, of course. Israel seems to have been all set on attacking Iran in the next 8 weeks and figured it was more or less "managing" US opposition before Gen. Martin Dempsey's speech blew up the plan and virtually obliged Israel to back down. Defense Minister Ehud Barak seems ok on that front, and has transitioned to talking up another Gaza War. Netanyahu, however, hang his whole foreign policy hat on attacking Iran and seems disoriented, paranoid and angry at the change. Where do they go from here?
Reports are that Obama has called up Netanyahu to try to mend fences, but analysts are warning that Netanyahu may be the one who needs to be more concerned about this split, as his ability to keep the US leadership more or less in his back pocket is vital for his domestic political standing.
In the end neither side is likely to tell the public the truth about this dispute, and how much of this is about Iran and how much is about David Letterman is an open question.