After a decade as Egypt's Foreign Minister and a decade as the Secretary-General of the Arab League, Amr Moussa is not only the front-runner to be Egypt's first post-revolution president, but with the junta banning top religious candidates he is virtually the presumptive victor already.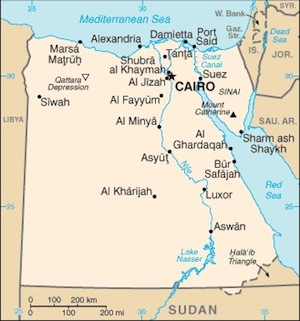 Speaking today at a rally in southern Egypt, Moussa touched on foreign policy with an apparent eye toward detractors who see him as the preferred US candidate. In the speech, he declared the Camp David Accords, the peace treaty with Israel that is treated as a sacred cow by many, "dead and buried."
Moussa said the document was purely interesting for historical reasons, and that it was designed for an era long gone. Instead, he said relations with Israel would center around the Arab Initiative of 2002, a policy initially advanced by Saudi Arabia, which proposed full normalization of relations with Israel for the entire Arab world in return for a Palestinian state around 1967 borders, and predicated improved relations with Israel on progress toward that end. Israel, needless to say, spurned that offer in 2002, saying "normalization" was too vague and that it would never end the occupation of the West Bank.
Moussa has overwhelming support among secular voters in Egypt. The nation's Islamist candidates were seen as publicly supporting the Accords, though calling for some minor revisions. Israeli officials have suggested that any revisions to the Accords would mean there was no reason for the nation to ever again negotiate with any Arab nation.