Secretary of Defense Leon Panetta arrived in the central Asian nation of Kyrgyzstan today with an eye toward convincing the nation's government to accept continued US military presence at the nation's Manas Air Base beyond 2014.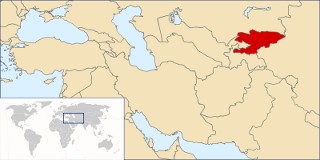 Things don't look promising for Panetta, however, as President Atambayev has insisted that he has "no intention" of renewing the US lease on the base, and wants to see it as a commercial, not military, enterprise.
The base has been playing an increased role in the US occupation of Afghanistan, particularly with the border with Pakistan now closed to military traffic. Yet Kyrgyzstan has been desperate to get out of the US-hosting business for years, and has a number of key factions outspoken in opposing the base.
Defense officials say that the loss of Manas could force the US to rely entirely on direct flights to Afghanistan over the North Pole, a dramatically more expensive prospect. The conversion of the base, close to the Kyrgyz capital city of Bishkek, to commercial use could be an economic boon to that nation.