The head of Egypt's ruling military council Field Marshal Hussein Tantawi has warned of "grave danger" ahead of mass protests planned for next week's anniversary of the country's 2011 uprising.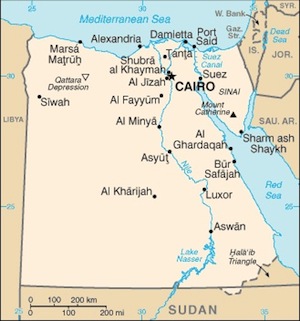 "Egypt is facing grave dangers it has not seen before," Tantawi said as he called on Egyptians to scuttle the "schemes and conspiracies" against Egypt. "The armed forces is the backbone that protects Egypt," he added, and "these schemes are aimed at targeting that backbone. We will not allow it and will carry out our task perfectly to hand over the nation to an elected civilian administration."
The warning was perhaps aimed at marshaling public opinion against the youth protest movement, but also seemed to foreshadow the military's readiness to respond violently to suppress the protests. Such harsh tactics were on display in December as security forces beat, shot at, and attacked unarmed protesters.
Egypt's pro-democracy activists are now calling on the Supreme Council of Armed Forces (SCAF) to step down completely, and accuse them of impeding the transition to civilian rule. Secular Egyptian figure and former IAEA chief Mohammed ElBaradei dropped out of the presidential race this week on the grounds that the ruling generals were botching the democratic transition.
SCAF is accused of killing at least 80 protesters since October, of torturing detainees and of detaining at least 12,000 civilians to be tried before military tribunals. The Muslim Brotherhood's Freedom and Justice Party, which won large pluralities in parliamentary elections, is now pushing for a law that would grant immunity to SCAF generals for crimes they have committed since taking power in February.
That decision was announced one day after the Brotherhood met with U.S. Deputy Secretary of State William Burns, which some saw as a sign that the U.S. has extended its suppression of Egyptian democracy almost a year past the ouster of their long-time ally Hosni Mubarak. U.S. money continues to flow to Egypt's ruling military council and weapons – including riot gear for security forces – have continuously been shipped from American to the Egyptian authorities.
U.S. support for SCAF – even as it rolled back progress toward democracy in post-Mubarak Egypt – has been consistent since they took power in what initially was promised to be temporary rule, but now activists fear shows signs of permanency.