Speaking today in the wake of the embassy attacks in Damascus, Secretary of State Hillary Clinton warned Syrian President Bashar Assad that he is "not indispensable" and that he must immediately 'compensate' the US for the attack.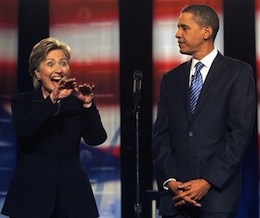 Earlier in the day, busloads of pro-regime protesters arrived at the US and French embassies and carried out a public protest against them, eventually charging into the embassy, holding a sit-in and causing unspecified damage. No officials were harmed or in danger, despite the Western characterization of the protesters as "thugs."
The protests were a reaction to the public appearances by US and French ambassadors in the city of Hama during anti-government protests in the city on Friday. The State Department accused the government of being responsible for today's rally.
The comment about Assad's waning indispensability, however, points to something the Obama Administration would likely prefer people to forget, that the US has long considered Assad something of a secret "ally," and his regime has long been preferred by the US to a more democratic nation, which might mobilize more aggressively to reclaim the occupied Golan Heights from Israel.