The WikiLeaks "cyber war" saw a small salvo fired today at the heartstrings of the whistleblowing plaform's supporters. According to Mike Gogulski of the Bradley Manning Support Network, rumors were spread this morning via Twitter that Pfc. Manning had committed suicide in the brig at Quantico, Va., where he is held.
Manning, who is accused of leaking several of WikiLeaks' recent bombshells, including the Afghan War Logs, the Iraq War Logs, and the 250,000+ document Cablegate, was arrested in Kuwait after hacker Adrian Lamo turned him in to the Army. In July, after two months in custody, he was under a suicide watch and was described as "despondent."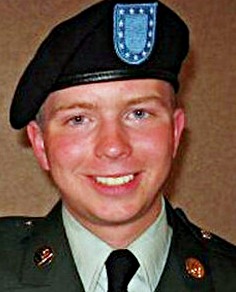 Gogulski confirmed with a call to the naval brig that Manning is still alive, and supporter Jeff Paterson spoke with the soldier's attorney, David Coombs.
"Coombs spoke with Bradley Manning today at approx. 3:30pm EST," reported Paterson to the "savebradley" page on Facebook. "He was in good spirits."
In September, there were rumors that Coombs "questioned" Manning's sanity, but the lawyer denied it on his personal blog.
In August, Michigan Congressman Mike Rogers dubbed Manning a "traitor" and called for his execution to end the "culture of disclosure." Last week, former Ak. governor and presidential hopeful Mike Huckabee said prison would be "too kind" for Manning, and also called for his execution.
Also today, the Bradley Manning Support Network reported that over 1,200 people have donated nearly $90,000 to Manning's defense.