With the Israeli government having by all appearances abandoned even the pretense of being about to restart the peace talks which stalled in September, Palestinian Authority President Mahmoud Abbas suggests that the time is coming for the PA to make a decision.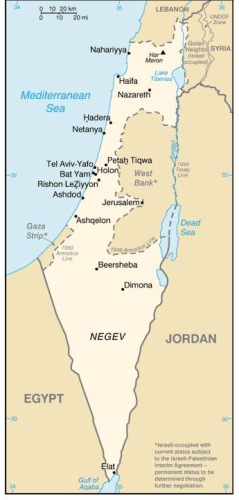 If it appears the talks won't start, Abbas says he intends to make a push for unilateral statehood in the West Bank. That appears to be a non-starter however, with the US all but committed to stop such an effort on Israel's behalf.
But even this wouldn't be the end of it, according to Abbas, who says that at this point he would declare the Palestinian Authority dissolved, saying it cannot exist without the prospect of statehood.
This threat has been repeated off and on by Palestinian officials, and appears to be a sort of "nuclear option" that Israel fears greatly. Though the Israeli government seems contented to occupy the West Bank more or less forever, while grabbing ever more land for settlements, it seems to need the pretense of a "peace process" to placate the international community in its decision to treat the occupied Palestinians as non-citizens.
Over 40 years after the occupation began no Palestinian Authority would all but necessitate some sort of one state solution, and it would be one in which Arabs are a large portion of the overall population. Since Israel's far right government is determined to maintain a Jewish majority, that's the one ending they cannot possibly allow.