The surrender of the leaders of the Red Shirt protesters in Thailand in the face of a massive military assault on their protest camp in central Bangkok will not, it seems, mean an end to the opposition, as protesters set fires across the Thai capital and soldiers shot at them, leaving at least 15 dead and scores wounded.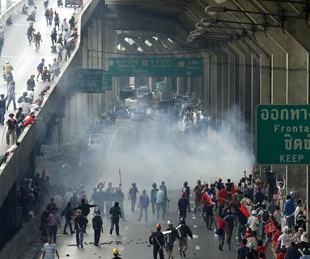 One of the lingering "commanders" of the pro-Democracy protesters vowed that the violence would continue, even as the Thai military is said to have received "shoot on site" orders for anyone still participating in the protest.
The dispersal of much of the main camp of the protesters appears to have brought relative calm to the capital, but simply spilled the protests out into the countryside, where much of their support remains, and analysts are calling this the most serious wave of political violence in Thailand's long history.
The military seems to be trying to extend its control over the protesters across the nation now, with mandatory curfews in effect across 24 of the nation's 75 provinces. With the military calling the protesters "terrorists" and the protesters digging in their heels in the face of attacks, it seems the violence is far from over.