On Sunday, Azerbaijan said it seized the second-largest city inside Nagorno-Karabakh as fighting over the ethnic Armenian enclave continues. Although Armenia denies the Azeri claim, if true, it is a significant gain for Azerbaijan.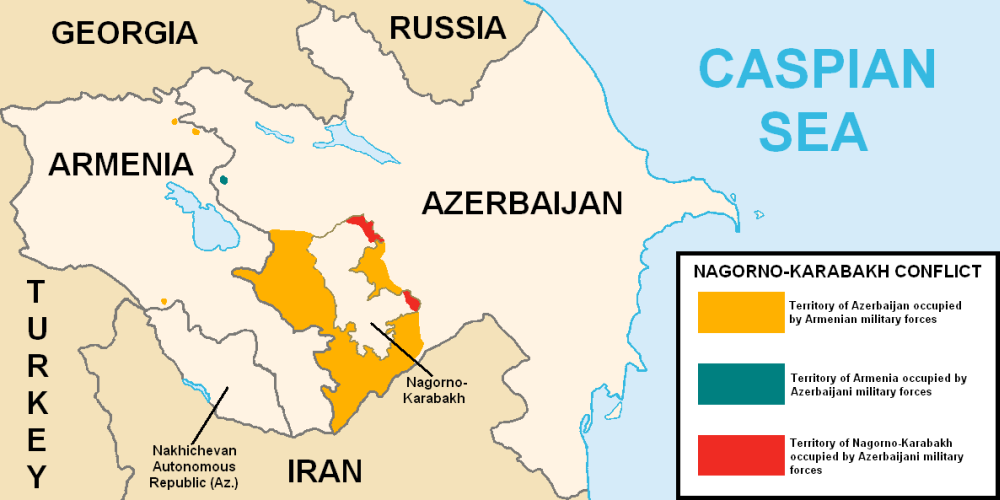 The city of Shusha, or Shushi as the Armenians call it, is just south of Nagorno-Karabakh's capital Stepanakert. Shusha is said to be a strategic location. In October, the president of the Republic of Artsakh, the name for the de facto state of Nagorno-Karabakh, said whoever controls Shusha "controls Artsakh."
"With great pride and joy, I inform you that the town of Shusha has been liberated," Azeri President Ilham Aliyev said on Sunday in a televised address. Aliyev said November 8th would "go down in the history of the Azerbaijani people" as the day "we returned to Shusha."
Armenia is reporting that Shush is not lost, and heavy fighting over the city is ongoing. Either way, all reports indicate Azerbaijan has been making gains inside Nagorno-Karabakh. Aliyev has called on Armenia to withdraw its military from all territories inside Azerbaijan's internationally recognized borders.
Turkish sources told Middle East Eye that Azerbaijan and Armenia were close to striking a deal for a new ceasefire. According to the sources, the agreement would cede a large chunk of territory to Azerbaijan and place Russian and Turkish peacekeepers in the area.
Three previous attempts at ceasefires quickly failed, but the new truce would be the first time Armenia agreed to give up territory. Azerbaijan has been supported by Turkey throughout the fighting. Ankara has been accused of sending mercenaries from northern Syria to aid Baku on the battlefield.
Since the fighting broke out on September 27th, over 1,000 soldiers from Nagorno-Karabakh have been reported killed, and dozens of civilians have been killed on both sides. Azerbaijan has yet to disclose its military casualties. Russia believes the overall death toll is close to 5,000.