Azerbaijan closed in on a key town in Nagorno-Karabakh on Thursday during fighting between Azeri and Armenian forces over the ethnic Armenian enclave. The president of the Republic of Artsakh, the unofficial state of Nagorno-Karabakh, warned of Azerbaijan's gains.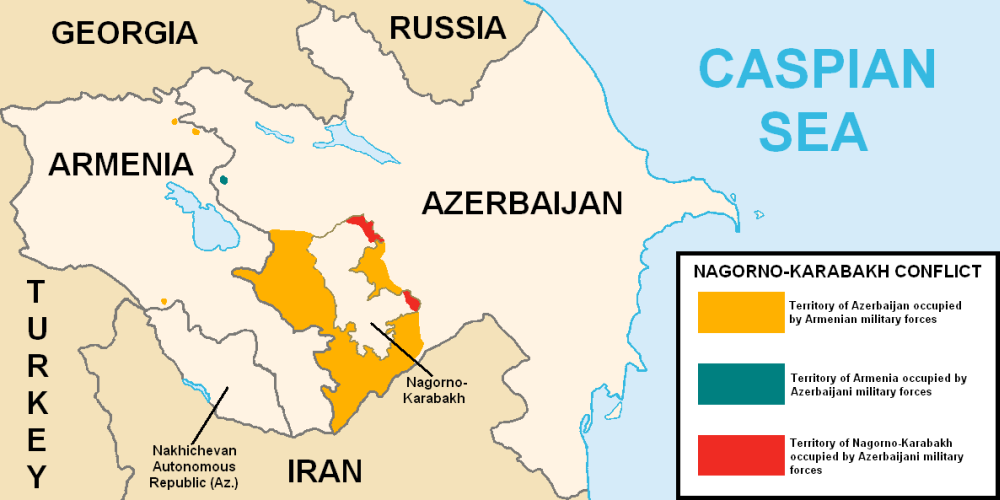 Nagorno-Karabakh leader Arayik Harutyunyan said Azeri forces were about three miles from the town of Shushi. "The enemy's main goal is to capture Shushi … whoever controls Shushi controls Artsakh."
On Wednesday, Armenia's defense ministry said Azerbaijan seized Gubadli, a strategic town between Nagorno-Karabakh and the Iranian border. The Azeri gains could make a diplomatic solution more difficult since Azerbaijani President Ilham Aliyev has been calling for Armenia to withdraw from all territories within Azerbaijan's internationally recognized borders.
The warring sides have attempted three ceasefires so far, but they all quickly failed. The truces were meant to make way for more substantive talks mediated by the US, France, and Russia, who co-chair the Minsk Group.
On Thursday, Russian President Vladimir Putin said Turkey should be involved in the peace efforts. Turkey is a close ally of Azerbaijan and has been vocal in its support of Baku in the conflict, calling for Armenia to end its "occupation" of Azerbaijan.
Nagorno-Karabakh officials reported what they said was the heaviest shelling of the enclave's capital Stepanakert since the fighting started on September 27th. On Wednesday, Baku accused Armenia of shelling Azerbaijan's Barda region, killing 21 civilians.
Nagorno-Karabakh's defense ministry reported another 51 military casualties on Thursday, bringing the number of ethnic Armenian soldiers killed in the fighting to 1,166. Dozens of civilians have been killed on both sides, and Azerbaijan has yet to disclose its military casualties.