Russia is considering a proposal from Iran to cool the fighting between Azerbaijan and Armenian forces in Nagorno-Karabakh, a Russian official said on Tuesday. So far, three ceasefires have been attempted to stop the clashes, but all have quickly failed.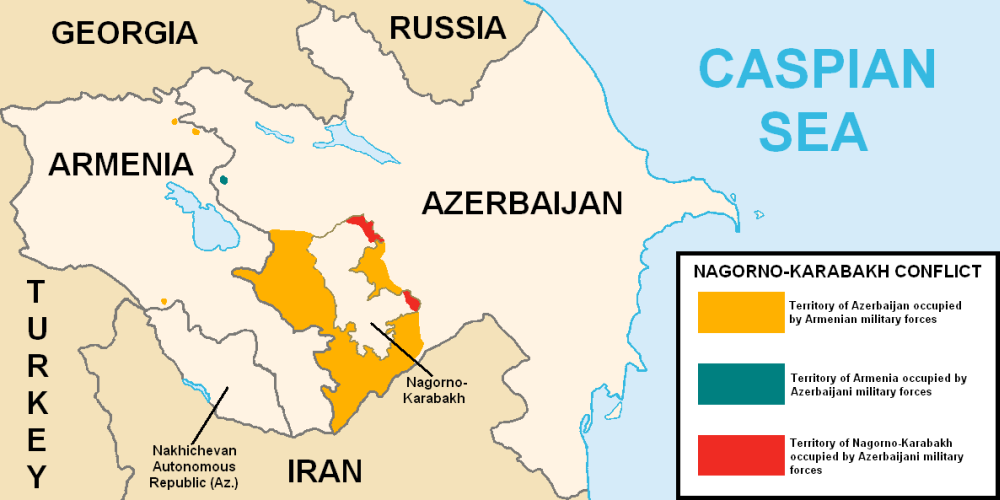 Russian Foreign Minister Andrei Rudenko said Iranian Foreign Minister Abbas Abaqchi made a proposal over the conflict last week in Moscow. Rudenko said Russia is "looking carefully at" Iran's idea.
Tehran seems to be seeking a leading role in the peace process. Iran has an interest in ending the fighting in Nagorno-Karabakh since the enclave is close to the Islamic Republic's borders. There have been reports of missiles fired in the fighting landing within Iran's borders.
On Sunday, Iran's Tasnim News Agency reported on an initiative brought forward by Iranian Foreign Minister Mohammad Javad Zarif.
"Since the beginning of the Karabakh crisis, we have been holding consultations with the regional countries, including the Azerbaijan Republic and Armenia as well as Russia and Turkey," Iranian Foreign Minister Mohammad Javad Zarif said.
"Among the key points of our country's initiative is that it does not concern a ceasefire only; rather, the plan is aimed at settling the conflict within a framework which becomes effective when both sides undertake to remain committed to a series of principles and remains in effect as more measures are adopted, including the withdrawal of occupying forces from all occupied areas," Zarif said.
The three previous ceasefires were brokered under the framework of the Minsk Group, which is led by the US, France, and Russia. The truces were meant to make way for more substantive talks mediated by the three countries. Zarif said his plan is not meant to interfere with mechanisms put in place by the Minsk Group.
Initially, Iran was cautious about taking a side in the conflict, but now it seems the Islamic Republic is leaning towards the Azeri side. Azerbaijan's President Ilham Aliyev has called on Armenia to withdraw its military from within Azerbaijan's internationally recognized borders. On Tuesday, Iran's Ayatollah Ali Khamenei made a televised address that echoed Aliyev's calls.
"Territories seized by Armenia must be returned and liberated. This is an essential condition," Khamenei said. "These lands belong to Azerbaijan, which has every right over them."
On Monday, Nagorno-Karabakh reported 1,177 of its soldiers killed so far in the fighting that erupted on September 27th. Dozens of civilians have been killed on both sides, and Azerbaijan has yet to disclose its military casualties. Russia has estimated the total number killed in the fighting could be close to 5,000.