Speaking in Moscw after a visit with his Russian counterpart, Syrian FM Walid al-Muallem declared the Syrian military to be ready to "go all the way" in an offensive against rebel held Idlib, saying that the goal is to wipe out terrorist groups that persist in the deescalation zone in the area.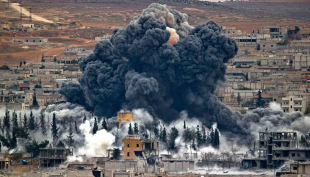 Idlib and the surrounding area is the last major rebel-held territory in Syria, and Muallem indicated that the presence of a large al-Qaeda affiliate in the region is viewed as a particular problem. Clearly, the Syrian government wants to reclaim the entire region, but Muallem indicated that ensuring al-Qaeda can't just operate out of the deescalation zone is of particular importance.
Tens of thousands of rebels from different factions are operating in Idlib and neighboring Aleppo. The forces are mostly centered on a pair of coalitions, one led by al-Qaeda and the other dominated by the Turkish government's proxy forces.
Officials familiar with it say that Syria has been gearing up for the offensive for some time, and Russia is expected to provide air support. Exactly when the offensive will begin is unclear, however, and there are calls to delay out of humanitarian concerns.