One day after Pentagon officials said they expected to soon resume major wargames in South Korea, they have been overruled by President Trump. Trump issued a statement on Wednesday saying he sees no reason to resume wargames now.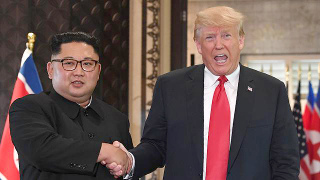 Trump announced the halt to wargames after his summit with Kim Jong Un. He said the exercises were "provocative" to North Korea, and that the US would save a fortune by not engaging in them. Since most wargames in South Korea simulate an invasion of North Korea, they do indeed tend to raise tensions significantly.
The Pentagon talk of resuming the wargames comes after President Trump cancelled Secretary of State Mike Pompeo's planned visit to North Korea. This was raising a lot of concerns that US talks with North Korea were about to collapse.
This was followed up with reports that the North Koreans had sent a "belligerent" letter to Trump. Officials have since clarified that the letter sought a peace deal with the US, which US officials say they aren't willing to offer.
Trump downplayed all this talk, however, saying he thinks his relationship with Kim is "doing well." He went on to accuse China of putting "tremendous pressure" on North Korea to not make progress.
Trump added that he can restart the wargames any time he wants, and if he does, "they will be far bigger than ever before."